Apparently there has been alot buzz going around about Mixed Chicks vs. Mixed Silk by Silk Elements. Some naturals are in a sort of up roar because they would rather give their money to a Black Owned business opposed to, other businesses, mainly Korean/Asian owned businesses.
Mixed Chicks gentle clarifying SHAMPOO 10oz is $11.99 they also carry a 33oz size for $40.00 and that is not including shipping (now in the DMV area you really have to hunt for a salon or beauty supply that carries this line), and I believe the in store price is a little bit more than ordering online.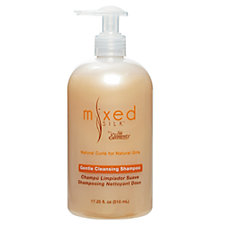 Silk Elements Mixed Silk Gentle Cleansing Shampoo 17.5 oz is $7.99 ($7.19 with Sally Club Card) which you can pick up easily at any Sally's Beauty Supply.
Mixed Chicks Leave-In Conditioner 10oz is 16.99 they also carry a 33oz size for $50.00 Silk Elements Mixed Silk
Leave-In Conditioner 12oz. is $7.99 ($7.19 with Sally Club Card)


Mixed Chicks

Detangling Deep
Conditioner 8oz is $10.99 they also carry a 33oz for $45.00 Silk Elements Mixed Silk Nourishing
Deep
Conditioner 12oz is
$7.99 ($7.19 with Sally Club Card)
Even with the VERY similar packaging and product color I can really see why this alarmed some people. Consumer side I would have to go with the Silk Elements because I am one of those people out here where EVERY PENNY COUNTS! I have nothing against Mixed Chick I have never used there product nor have I used the Silk Elements Mixed Silk products. The thing with these black owned companies is that the prices are pretty up there. I remember about a year maybe even 2 years ago when prices went up on some Black Owned natural hair companies people were PISSED! Then the Black Owned companies issued statements saying the price of the ingredients used to make their products when up, so in return their prices had to go up.




What is your take on this?